Happy Thanksgiving Day Poems
Here's a great poem, among many at https://www.weareteachers.com/thanksgiving-poems-for-kids/ (that's for kids of all ages!).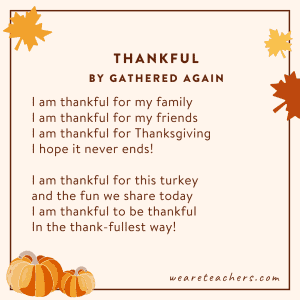 I was pleased to find this little gem among many via https://www.google.com/search?q=thanksgiving+poems
You'll find more fun Thanksgiving poems for kids at https://gatheredagain.com/thanksgiving-poems-kids/ – including the poem above and One, Two, below:
One, Two
One, two
Here's some turkey for you.
Three, four
Here, have some more!
Five, six
I call the drum sticks!
Seven, eight
Load the plate!
Nine, ten
AMEN!
You'll find more traditional (adult) poems about gratitude, family, food, home, and giving thanks for the Thanksgiving holiday at https://poets.org/poems-thanksgiving, including this one from Henry Wadsworth Longfellow, "The Harvest Moon."
It is the Harvest Moon! On gilded vanes
And roofs of villages, on woodland crests
And their aerial neighborhoods of nests
Deserted, on the curtained window-panes
Of rooms where children sleep, on country lanes
And harvest-fields, its mystic splendor rests!
Gone are the birds that were our summer guests,
With the last sheaves return the laboring wains!
All things are symbols: the external shows
Of Nature have their image in the mind,
As flowers and fruits and falling of the leaves;
The song-birds leave us at the summer's close,
Only the empty nests are left behind,
And pipings of the quail among the sheaves.
Many more Thanksgiving poems are available from from WeAreTeachers, whose mission is to inspire teachers and help them succeed by sharing practical classroom ideas, the best freebies and giveaways, and teacher-to-teacher advice and humor.  From their Thanksgiving Day poems page this year, "The Best Thanksgiving Poems for Kids of All Ages – Poems to spark conversation and reflection."
With all best wishes for you and yours to enjoy a Happy Thanksgiving!
Regards,
Randy J. Hettwer
President, TDI Associates, Inc.
We welcome your comments, questions and suggestions.  Please contact us with questions.  Best to call, email or visit our site for the best response.  We do invite you to engage with us on social media (just not for immediate needs).
As always, if you like, you will find us on the following social media sites, among many others:
Facebook
LinkedIn
Twitter
_____________
Thanks to our friends at OnYourMark, LLC, for preparing this post so we could share the message, and our wishes for a Happy Thanksgiving, with you.